Regular price
$185.00 USD
Regular price
Sale price
$185.00 USD
Unit price
per
Sale
Sold out
✔️ Forged to Last for Generations
✔️ Pre-Seasoned and Blued
✔️ Unrivaled Heat Retention
✔️ Integrated Handle. No Rivets or Welds
✔️ Chemical-Coating Free, 100% Natural
Free Shipping

Zero Chemicals

Hand Forged
Description

Crafted by master blacksmiths from the Zhang Qiu district in China's Shandong province. This wok is unlike any other, hammered tens of thousands of times, resulting in a wok that is unparalleled in strength, durability and performance. Made from premium carbon steel, this wok heats evenly and quickly, and features a naturally non-stick surface with proper seasoning. With a round bottom for authentic stir-frying, this wok is the perfect tool for creating delicious stir-fries, fried rice, and more. Elevate your cooking game with this exceptional wok, passed down from generations of skilled artisans.
Specifications

Material: Carbon Steel

Shape: Round-bottom

Weight: about 2KG

Thickness: About 2mm

The wok comes blued and is shipped with a layer of protective oil that needs to be washed off before use.
Care and Maintenance

First Use: When you receive your wok, wash it thoroughly with soap and warm water to remove the protective oil. Dry it up with a paper towel, then wipe a thin layer of oil all over the wok. Finally, fry up a bunch of scallions/green onions with a generous amount of oil until they turn black.

Regular Care: Use a wok brush to scrub the wok with warm water. Make sure the wok is smooth to the touch before you put it back on the flame to dry it.

Carbon steel is a reactive metal, so it should always be dried thoroughly before storing to avoid rusting.

Your wok will get darker with every use. This is part of the wok's natural aging process and actually helps to make the wok non-stick.
Precautions

Avoid cooking acidic ingredients like tomato sauce or vinegar in this wok within the first few months of receiving it. In the beginning, the seasoning has not yet built up, and cooking acids will strip the seasoning of the wok and you will have to reseason it.

If you accidentally cook something acidic in this wok, do not worry. You just need to reseason the wok.

Do not put this in the dishwasher. It will completely strip the seasoning. However, if you accidentally put it in the dishwasher, you can start the seasoning process again.
View full details
What Redditors Say About Us: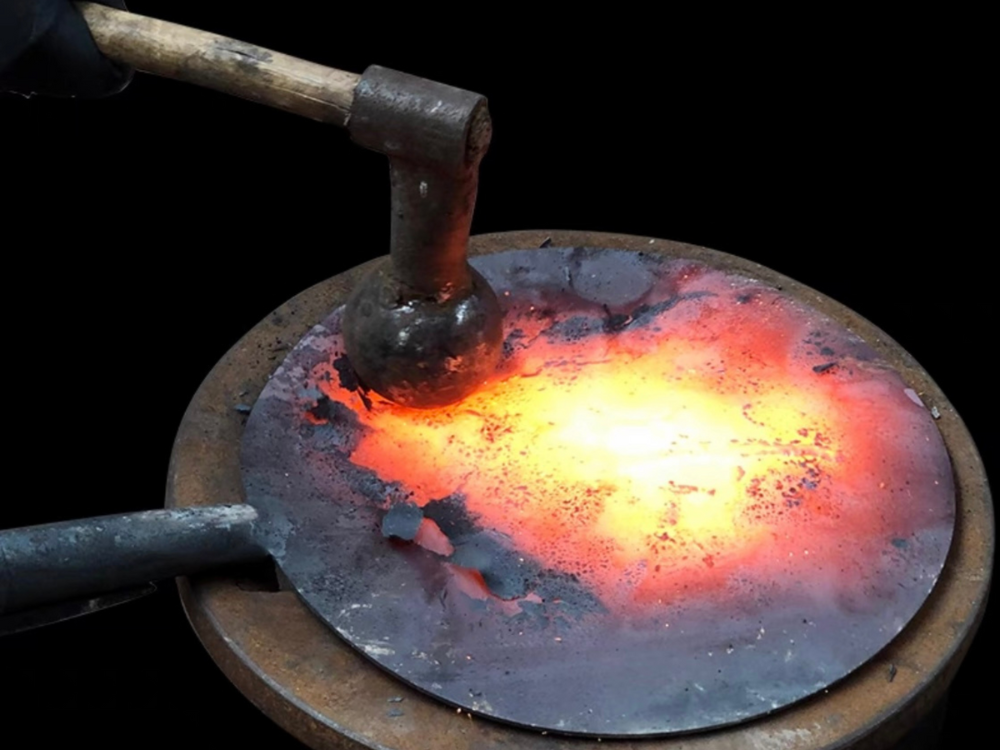 Built Tough
Crafted using time-honored techniques passed down through generations, our hand-forged woks are built to last a lifetime, and then some. Made from premium carbon steel, they can withstand the highest heat and toughest conditions.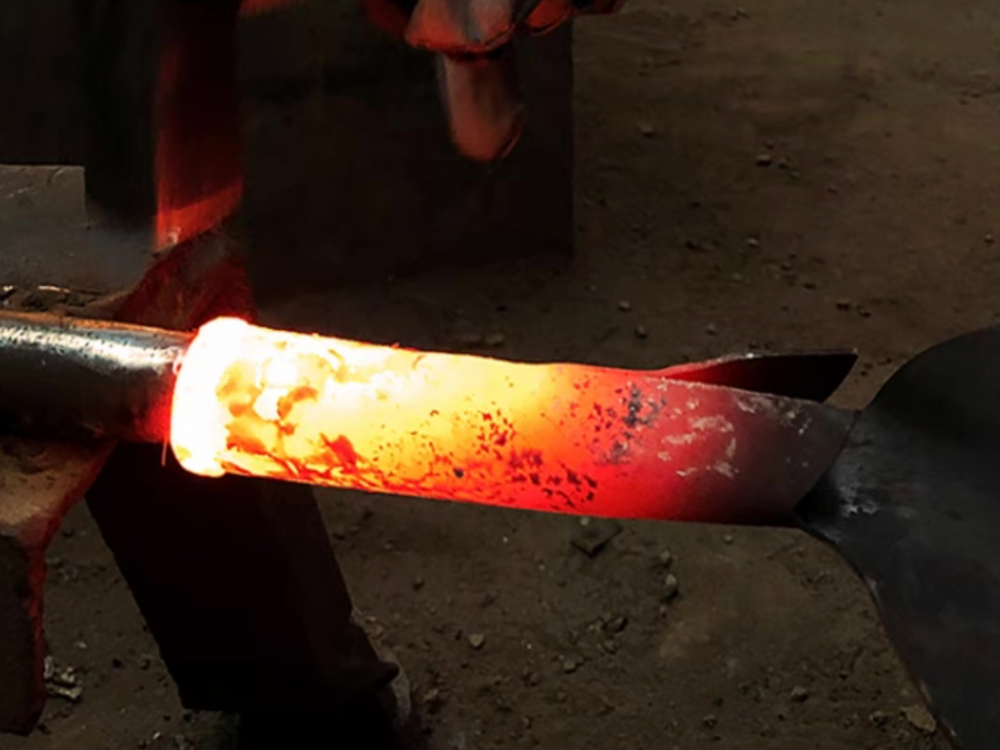 Integrated Handle
Crafted from a single piece of iron, the handle has no rivets or crevices where food can get trapped. Unlike woks with wooden handles, this wok's handle will not warp or break over time.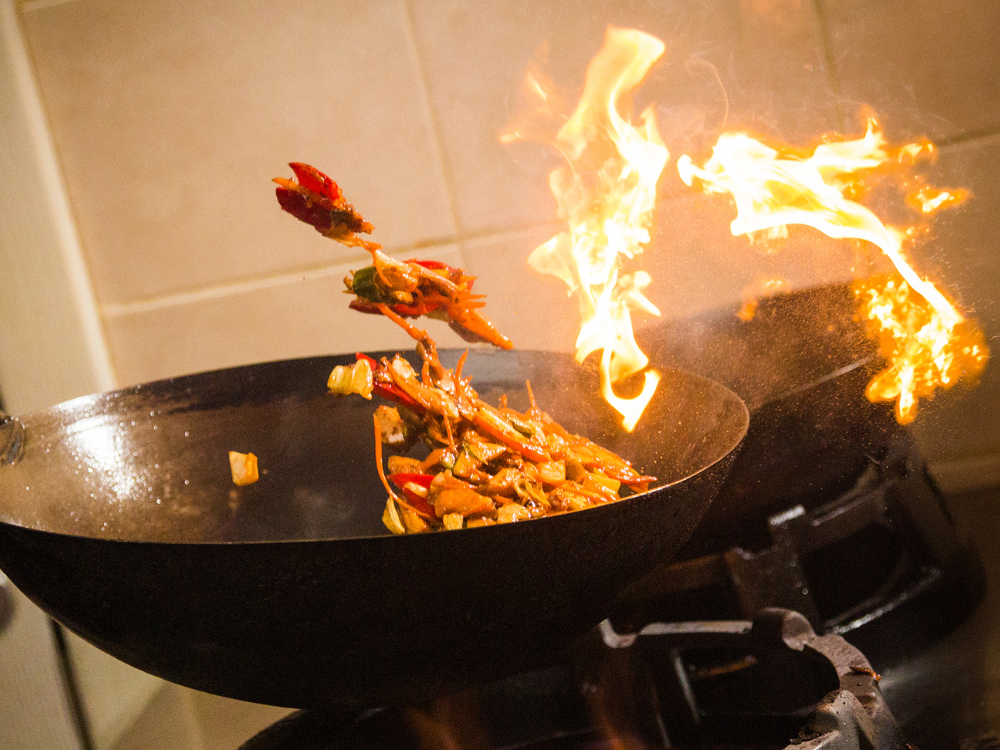 Wok Hei
Designed to impart the coveted wok hei flavor that's so beloved in Chinese cuisine. Our wok's thick steel distributes heat evenly and retains it longer, creating the perfect sear and flavor in every dish.
Our Forging Process At a Glance
Steel Smelting

A single piece of carbon steel is smelted over blazing flames and hammered into a rough dome shape.

Handle Forming

The steel tail is wrapped around an iron rod and hammered to form the wok handle.

Hot Forging

While the steel is still hot, it is repeatedly hammered until the wok achieves the desired shape.

Cold Forging

Once the steel has cooled down, it is hammered repeatedly to increase the density and smoothness of the steel
A Thing of Beauty
Five Stars! Can't recommend Oxenforge's woks more! It's a work of art and a thing of beauty. It's more than just a throwaway pot, it's for a lifetime. Great dishes and results. Also great customer service as well, and super responsive to questions.
Thanks for your kind words, Henry! I hope you make lots of great memories with your new wok!
Amazing Wok!
I purchased the 34 cm wok. It took 10 days from shipping notice to delivery. Well worth the wait. I expected to wait longer. I requested that the silicone handle protector NOT be installed on the handle. It was included in the package along with a wood lid. I did not expect the wood lid. Items were carefully packed inside an Oxenforge box with lots of bubble wrap. The box was wrapped/packed inside a large plastic bag and taped.
The mirror finish of the cooking surface is simply wow! You can see my flower reflected on it in the attached photo.
When the wok arrived, I read the instruction card. I washed the woks with soap and warm water, per instruction. Then I dried it with a clean kitchen towel.
I heated it on a portable gas stove. I set the flame low and increased it gradually. I "flicked" some water which evaporated right away. Added generous amount of olive oil (it is what I have); stir fried some chives. I moved the chives around to "wipe" the inside of the wok.
Dished out the chives. The chives did not taste metallic but they were overcooked, so I ditched them.
Let the wok cool; wiped off the excess oil; the wok was clean but I washed it in kitchen faucet hot water with a bamboo brush. Wiped it off dry with kitchen towel.
I fried an egg in olive oil. The egg has been out of the refrigerator half a day. I used my spatula to "release" the egg; it danced on the wok after a nudge with my spatula.
Then I fried a grilled eggplant omelette: grill eggplant; peel. Beat an egg on a plate; season with salt and pepper. Flatten the egplant on the beaten eggs; coat both sides with the egg. Heat wok, add oil, fry egg-coated eggplant until light brown on both sides.
Again, I used my spatula to nudge the eggplant to release. It danced on the wok after that nudge.
This evening, I cooked Philippine chop suey - stir fried vegetables - with white sauce, which I skipped (sauce is corn starch-based; I avoid adding corn starch to my dishes). The wok wiped off clean with paper towels, but I washed it in warm water, scrubbed it with bamboo brush. I felt its cooking surface; all smooth, no stuck food bits. Dried it with kitchen towel. Sprayed grape seed oil (it is what I have in spray container) on a paper towel; wiped it on the wok's cooking surface and also on the outside and handle.
This wok is going to cook and make a lot of memories with family and friends. It will outlive me, for sure.
I plan to buy a second piece to keep this wok company. And also because these days, I cook the same recipe in two versions - a version for those who eat anything; and, another for those who eat plant-based.
Happy cooking!
Work of Art
Prior to buying my Oxenforge wok, I already had a Craft wok and a random no-name brand. They work fine but the oxenforge wok is special. It is a functional work of art, just absolutely beautiful with real craftsmanship. The Oxenforge wok is also a little bit bigger than its stated dimensions as it's deeper than my other woks. The owner is also very knowledgeable and approachable, the customer service is top notch. I am very tempted to buy another.
Thanks Zelin! I'm really glad you're enjoying our wok! Take good care of it, and it will last you a lifetime!
10/10 Amazing
I have several woks and a high BTU burner, and this thing hands down blows all the other ones away. The owner I have chatted with for some time on the chat box and he answered tons of questions, and then some. With all the fake woks floating around I wasn't sure what to expect but after seeing it in my hands and seeing the quality I truly see how this is the real deal of hand hammered perfection. Thanks! I think I will be buying another soon
Thanks Travis! It looks absolutely stunning on your wok burner! I hope you make lots of good memories with this wok man!
-Brad
Beautiful Quality Heavy Wok
I purchased the 36cm wok and it is absolutely beautiful. I love the hammered patterns and blued seasoned color. The wok came with a wooden lid and I added the bamboo brush. Both of these items are high quality. Be aware that this size wok is heavy to toss. Empty it weight over 5 lbs. but it is a high end quality wok.
Frequently Asked Questions
Are these pre-seasoned?

Yes, these are already seasoned by our expert craftsmen. We do this because it is tough to season woks at home without an industrial stove. Seasoning it also prevents any rust that might occur while it is being shipped.
Can I use this on induction?

Our round-bottom woks can not be used on induction, but our flat-bottom woks can! Be careful though, induction tends to warp carbon steel if you heat it up too fast. We suggest you start on the lowest heat setting and slowly bring the heat up. After using it like this for a month the steel will get more resilient, and you should be ok to use higher temperatures.
Can I use these on my gas burner?

It depends on where you live. Most homes in the USA have a flat top burner, so you would need to purchase a wok ring to put over the burner so that the wok has a stable base to sit on.
How heavy is this wok?

Our hand-forged woks are about 2-3kg depending on the size that you order. This is quite heavy for people who aren't used to cooking with forged-iron or cast-iron.
What's the difference between forged iron and cast iron?

Forged iron tends to have a lower carbon content than cast iron, which makes it less brittle and more resistant to cracking. Additionally, forged iron is typically more resistant to rust and corrosion than cast iron, which makes it a better choice for outdoor use or in humid environments. However, wrought iron is generally more expensive than cast iron and can be more difficult to find, as it is not commonly produced in large quantities.
Can I use metal spatulas with this wok?

Yes. In fact, metal spatulas are often preferred for stir-frying because they can scrape up any bits of food that might be stuck to the bottom of the wok, allowing them to incorporate into the dish and add flavor.
Can I put this in the dishwasher?

NO! Dishwashers are too harsh and abrasive, causing damage to the wok's surface. Instead, it's best to wash a carbon steel wok by hand with hot water and a mild detergent, and then dry it thoroughly on the burner before storing it.